A-L-E-RT-S
SALUTE for Civilians!
This article first appeared in the March 2002 issue of the Vanguard, the official publication of the Military Intelligence Corps Association.
Copyright (c) 2002 The S2 Company, All Rights Reserved
The best way to prevent a terrorist attack is by having thousands of citizens wield their cell phones as Information Age weapons and REPORT suspicious activity to the proper authorities. And in any crisis, brave citizens who can clearly report the details of the situation can help authorities send the right emergency response teams to the right places.  But WHO do you call, and HOW do you report?
In an infantry unit, soldiers are trained to call for mortar indirect fire support using a specific format that efficiently provides the right information to the mortar platoon's fire direction center.  However, when I was serving as a mortar platoon leader, one of our evaluated platoon tasks was to talk an untrained observer through a call for fire... leading them to give the correct location and composition of the enemy, and then talk them through adjusting the rounds onto the target.  As you might expect, getting steel on target took much longer using this method than it did with a trained observer!   Yet this is the modus operandi of every Police Department dispatcher: talking the untrained observer into reporting the correct information during a crisis situation.  Dispatchers are very good at this, and do it dozens of times each day.  However, in a crisis they will received hundreds of calls, and can quickly become overwhelmed if they have to talk each one of these untrained observers through the reporting process.  Imagine how much more efficient they would be if citizens were trained to call in emergency information the way that soldiers are trained to call for fire support!
Long ago, the US Army developed a special reporting format for combat information: SALUTE.  As soldiers we've all had this drummed into our heads and can recite it in our sleep:  Size, Activity, Location, Unit, Time, Equipment.  It was designed to provide the front-line soldier an easily remembered format for reporting critical information about the enemy he was facing.   Since the combat information contained within the SALUTE report is similar to that received by a police dispatcher in an emergency, I worked with Ms. Molly Schmidt, senior dispatcher of the Sierra Vista Police Department, to civilianize the SALUTE format into an easily remembered format covering the most important elements of information.  What we ended up with was A-L-E-RT-S!
Element

Explanation

Activity

What is the crime or what did you see? Suspicious Activity, Fire, Assault, Burglary, Robbery, Stolen vehicle, Theft?

Location

Where is it? An address is best, but describe in your own words if you don't know the address.

EMS

Injuries that require immediate response by Emergency Medical Services.

Response

Time

When did this occur? In progress? A few minutes ago? Hours ago? This determines the urgency of getting police or medical to the scene! In a real crisis they may have to decide where to go first... this will help them make a good decision and save lives!

Suspect

Was it caused by a crime? Did you see suspicious activity? If so, describe the people, vehicles, weapons, and where they are... or the direction they went.
This format is easy to remember, and flexible enough to cover a wide variety of emergency situations.  For example:
Element

Crime...

Suspicious Activity...

Fire...

Activity

"Shooting...

"Someone was looking into windows of parked cars...

"House has smoke pouring out the attic vent...

Location

...at 504 1st Ave...

...at 504 1st Ave...

...at 504 1st Ave...

EMS

...one person wounded in the arm...

...no injuries...

...no injuries...

Response

Time

...3 minutes ago...

...last night at 8 pm...

...it's happening right now...

Suspect

...suspect is 5'10" male with brown hair and yellow shirt armed with a revolver now running north on Fry Street!"

...suspect is 5'4" female, about 23 and 130 pounds, with long braided brown hair, yellow shirt, and blue jeans. Walking south, unarmed."

...no suspects."
The information is disseminated to local citizens for use by placing it on the "Report It" website at www.Huachuca.Org.     
This site features the details of the ALERTS reporting format and numerous examples; instructions for describing people, vehicles, and weapons; and information on suspicious mail. 
Also available for download is an MS Word file with business-card size ALERTS Cards (Fig 1), and a free Palm OS tool with both the ALERTS format and an emergency phone number database (Fig 2). 
This effort is endorsed by the Sierra Vista Police Department, and they have provided invaluable assistance and expertise.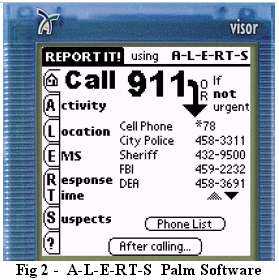 The next step is to ensure that the general public knows about and regularly uses ALERTS, particularly in reporting suspicious activity.  We are  currently developing lesson plans so that schools and private organizations can not only train their members, but offer training opportunities for others as a community service.  Organizations which have disaster-related missions, such as Neighborhood Watch,  Amateur Radio Relay League, Civil Defense, Civil Air Patrol, and  Scouting, could use this as both a response tool and a community service vehicle.  We are also looking for corporate sponsors to produce the cards in quantity for city-wide distribution, and also to assist with general community awareness advertising.
The desired end-state is to turn Sierra Vista and vicinity into a 80,000-citizen Scout Platoon, armed with cell-phones and other communications devices, who are trained and willing to render effective spot reports.   However, other communities and military installations are encouraged to download  and modify the online ALERTS Card and Palm OS software's database to reflect the telephone numbers of their local authorities.   Over time, the vast majority of these spot reports will be for 'Suspicious Activity' related to petty crimes.   Some will be focused on summoning help to cope with the inevitable accident or natural disaster.  But the biggest payoff will always be in collecting the many subtle clues that will enable law enforcement organizations to prevent a major crime or terrorist attack.
The Author - Neil A. Garra is the Owner and Despot for Life of The S2 Company at www.S2company.com.   Before retiring on Halloween 2000, he served with the 1st, 2d and 5th Infantry Divisions, and in several positions at Ft Huachuca, including Instructor,  "Geek to Grunt Interface" at the Battle Command Battle Lab, and Chief of Skunkworks within the Distance Learning Office.   He is a graduate of the Sierra Vista, Arizona Citizens Police Academy, a member of the Sierra Vista Information Technology Task Force, and runs the MICA website.  Send any comments or questions to g@s2company.com!