Excerpts...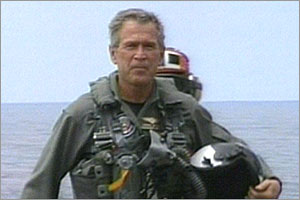 The Battle of Iraq is one
Victory
in a war on terror that began on September 11th, 2001,
and still goes on.
Our war against terror is proceeding according to principles that I have made clear to all:
Any person involved in committing or planning terrorist attacks against the American people becomes an enemy of this country, and a target of American justice.
Any person, organization, or government that supports, protects, or harbors terrorists is complicit in the murder of the innocent, and equally guilty of terrorist crimes.
Any outlaw regime that has ties to terrorist groups, and seeks or possesses weapons of mass destruction, is a grave danger to the civilized world, and will be confronted.
And anyone in the world, including the Arab world, who works and sacrifices for freedom has a loyal friend in the United States.
Our commitment to liberty is America's tradition.
Every name, every life, is a loss to our military, to our nation, and to loved ones who grieve. There is no homecoming for these families. Yet we pray, in God's time, their reunion will come.
Those we lost were last seen on duty. Their final act on this earth was to fight a great evil, and bring liberty to others. All of you -- all in this generation of our military -- have taken up the highest calling of history. You are defending your country, and protecting the innocent from harm. And wherever you go, you carry a message of hope, a message that is ancient, and ever new. In the words of the prophet Isaiah: "To the captives, 'Come out,' and to those in darkness, 'Be free.'"
Thank you for serving our country and our cause. God bless you all, and may God bless America.
---
Excerpts from President Bush's speech, delivered from the deck of the USS Abraham Lincoln
1 May, 2003